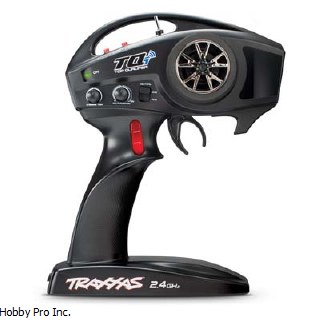 TQi 4 CH 2.4GHz Radio w/TSM RX
TRA6507R

TECH NOTES

This is the Traxxas TQi 4-Channel 2.4GHz Transmitter with 5-Channel Receiver,
TSM* (Traxxas Stability Management) and Traxxas Bluetooth Module.
Servos Not Included.

FEATURES: Traxxas Stability Management (TSM): Superior tuning algorithms run on
high-speed electronic components to control wheel spin and steering
direction on loose dirt, concrete and even ice and snow. TSM can be
fine tuned from 0-100%, or turned off by adjusting the multi-
function knob on the TQi transmitter
Can be equipped with the TQi Docking Base along with the iPhone,
iPad or iPod touch* to create a graphical user interface for the
vehicle
Simple two-button programming interface
Automatic model recognition recalls settings for up to 30 Traxxas
Link enabled models
Adjustable throttle and steering endpoints
Five channel receiver with three telemetry ports
Internal antenna
High 13ms frame rate and near zero latency for responsive control
Built-in failsafe returns throttle to last saved neutral position
Multi-Function knob can be programmed to control Steering Sensitivity
Throttle Sensitivity, Steering Percentage, Braking Percentage, or
Throttle Trim

INCLUDES: Traxxas TQi 4-Channel 2.4GHz Transmitter
Bluetooth Module, TRAC6511
5-Channel TSM Receiver, TRAL6533

REQUIRES: AA Batteries: Four for transmitter
Servos of modeler's choice

COMMENTS: iPhone, iPad and iPod touch are not included.
Traxxas Link App is available in the Apple App store, or on Google
Play.
Customer Reviews
This product has not yet been reviewed.