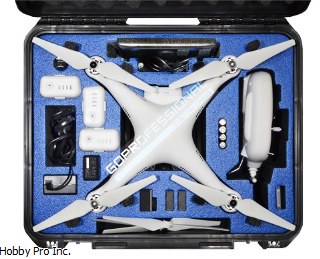 GO Professional Case Phantom 2
GOPRO Hard Case

TECH NOTES

Go Professional Cases Introduces the XB-DJIFS
The Elite Original Customized Case for the DJI Phantom

For the GoPro Lover Who Has All the Toys,
This Case is For You!

GUARANTEED FOR LIFE ~
BECAUSE WE ONLY MAKE PRODUCTS
THAT LAST MADE IN THE USA


***Now Fits Fat Shark Goggles and Universal Radios, with a Convertible Charger Cavity that fits From Standard up to a 9" x 2/25" x 6/5" Charger***

Okay, DJI Phantom Pilots...we hear you! You paid the bucks for your Phantom and you now you need the perfect case. The XB-DJI is designed the way you wanted it! It's size meets ATA carry-on requirments so you can transport your Phantom with ease. You keep flying and we'll keep making cases for you and all your DJI stuff!

We never have been a one size fits all design team, so give us a call if you need something a bit more customized. We do it everyday and love it!

Features:

All our products are the highest water-jet precision cut. We never cut corners and die-cut or punch cut our custom cases.
Our custom foam is housed in a high end SKB military spec case used by military and industrial leaders. We never use no-name cases.
Lifetime guarantee, because we only make products that last
Made in the USA, Shipped Worldwide

The XB-DJI Will Fit 9" Props:

1 DJI Phantom® with GoPro® Hero 3 (or 2) attached
1 FatShark FPV Goggle
1 Phantom® Charger
6 Phantom® Batteries
1 Radio
4 Spare Props up to and including 9" Props
4 Spare Motors
4 AAA batteries
Misc Cables
GoPro Equipment:

1 Additional GoPro Hero® 2 or 3 Camera
2 GoPro Hero® Batteries
2 BacPacs
2 Deep Back Doors
1 Wall Charger
1 Auto Charger
2 SD Cards


Specifications:



Exterior Dimensions: 20.25" x 16.93" x 8.78"
Customer Reviews
This product has not yet been reviewed.